HEF Finance: 420 Loans and Cannabis Business Financing trends in 2023
---
Welcome to HEF Finance, your trusted partner for 420 loans and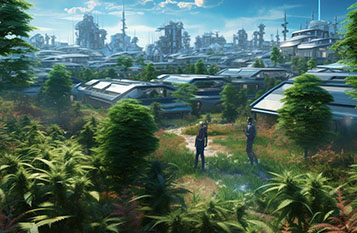 cannabis business financing. With a history of seven years of reliable execution in the cannabis industry, we specialize in providing tailored financial solutions for cannabis businesses, including dispensaries, cultivation operations, and processing facilities. In 2023, HEF has received numerous inquiries for cannabis loans, showcasing our expertise in meeting the unique needs of public and private companies within the cannabis sector.
The Growing Demand for Cannabis Financing in 2023
The cannabis industry is booming, and 2023 has brought forth a surge in demand for cannabis financing. HEF Finance has been at the forefront of meeting this demand, providing 420 loans for a wide range of purposes, including:
Dispensary Expansion: As the cannabis market continues to evolve, dispensaries are seeking capital to expand their operations, offer a broader product range, and cater to increasing customer demands.
Cultivation Expansion: Cultivation facilities are vital to the cannabis supply chain. Many are looking to expand their operations, improve infrastructure, and increase production to meet the growing demand for cannabis products.
Vertical Acquisitions: Vertical integration is a key strategy in the cannabis industry. Companies are pursuing acquisitions to control every aspect of the supply chain, from cultivation to retail.
Cannabis Hedge Fund Loans: Hedge funds specializing in the cannabis sector are seeking strategic financing to invest in promising cannabis businesses, fostering growth and innovation. Hedge fund loans offer greater speed and flexibility but typically have a higher cost to carry than real estate loans or construction loans.
At HEF Finance, we recognize the diverse financing needs of cannabis businesses and are committed to providing tailored solutions that empower their growth and success.
420 Loans: Our Specialization
HEF Finance has established itself as a specialist in 420 loans, dedicated to serving the unique financial needs of the cannabis industry. Our comprehensive financial solutions encompass a wide range of services, including:
420 Real Estate Financing
Finding the right real estate is crucial for the success of a cannabis business. We offer competitive real estate financing options to help you secure the ideal properties for your operations while ensuring compliance with local regulations.
Construction Financing
Building or renovating facilities to meet the demanding standards of the cannabis industry can be a significant undertaking. HEF Finance provides construction financing solutions to ensure that your construction projects are completed on time and within budget.
Acquisition Financing
Expanding your cannabis business through acquisitions? Our acquisition financing options are designed to assist you in acquiring existing cannabis operations or complementary businesses, allowing for rapid growth and market expansion.
Cannabis Hedge Fund Loans
We understand the unique needs of hedge funds focusing on the cannabis sector. Our cannabis hedge fund loans provide the financial flexibility required to execute strategic acquisitions and investments effectively.
Term Loans
Whether you need working capital or funds for specific projects, our term loans provide the financial flexibility required to execute your business plans effectively.
And More
HEF Finance's expertise extends to a wide range of financial services, including equipment leasing, inventory financing, and lines of credit. Our goal is to provide a comprehensive suite of financial solutions to meet your specific requirements.
Our Seven-Year Track Record
At HEF Finance, our seven-year history of reliable execution in the cannabis industry speaks for itself. We have consistently helped cannabis businesses succeed and have earned a reputation for delivering results. Our commitment to excellence, compliance, and tailored financial solutions has set us apart in the cannabis financing space.
Contact HEF Finance Today
As the cannabis industry continues to evolve and thrive, securing reliable financing is essential for your success. HEF Finance is here to provide the financial solutions you need to achieve your business goals. Contact us today to learn more about our 420 loans and how we can partner with you on your journey to success in the thriving cannabis market. Let us be your trusted financial ally as you write the next chapter in your cannabis business story.
Back to Blog list