New York Cannabis Loans
---
Powering Growth in New York's Emerging Cannabis Industry: HEF Finance's Specialized Lending Services
Welcome to HEF Finance, your trusted partner in specialized cannabis lending services! Since 2017, we have been at the forefront of underwriting numerous loans to support the growth and success of New York's burgeoning cannabis industry. As dedicated cannabis lenders, we specialize in providing tailored financing solutions for real estate, construction, equipment, business term loans, and acquisition loans for cannabis-based businesses across the state. Whether you're a startup or an established enterprise, our team is committed to fueling your growth and helping you capitalize on the opportunities in this exciting new market.
Unleashing the Potential of New York's Cannabis Industry: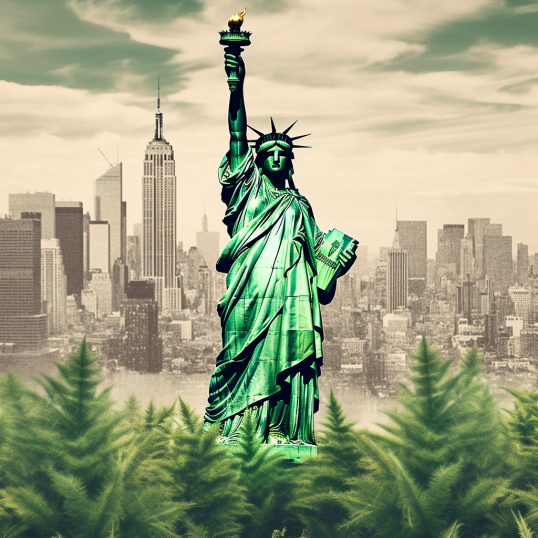 New York's cannabis industry is poised for exceptional growth and innovation. With recent legalization and the introduction of adult-use cannabis, the market is projected to reach unprecedented heights. According to industry experts, New York's cannabis market is expected to surpass $4 billion by 2025, creating a wealth of opportunities for entrepreneurs and investors alike. Understanding the market trends and dynamics is crucial for cannabis entrepreneurs seeking financial support in this evolving landscape.
Cannabis Lenders Committed to Your Success:
At HEF Finance, we understand the unique challenges faced by cannabis entrepreneurs when it comes to accessing traditional funding. As private cannabis lenders, we are dedicated to providing tailored solutions designed specifically for the industry. Our expertise in the legal and regulatory landscape surrounding cannabis in New York allows us to navigate complexities seamlessly and offer a range of financing options to meet your specific needs.
Hard Money Loans: Overcoming Funding Barriers:
When traditional financing options are limited, hard money loans can serve as a valuable tool for cannabis businesses seeking immediate capital. At HEF Finance, we offer hard money loans designed to bridge the funding gap and provide the liquidity necessary to pursue your goals. Our streamlined processes ensure that you receive the funding you need in a timely manner, empowering you to seize opportunities and drive growth.
Dispensary Financing: Fueling Your Expansion:
Dispensaries and retailers require reliable financing to secure a competitive edge and maximize their growth potential. At HEF Finance, we understand the importance of dispensary financing in supporting your business objectives. Whether you need funds to expand your product offerings, enhance marketing efforts, or open new locations, our customized financing solutions can meet your unique requirements. With our support, you can focus on delivering exceptional customer experiences while we handle the financial aspects, ensuring your success in this thriving market.
Debt Financing: Empowering Your Ambitions:
To propel your cannabis business forward, strategic debt financing can provide the necessary capital infusion. At HEF Finance, we offer debt financing solutions tailored to your growth aspirations. Whether you're looking to expand operations, invest in research and development, or capitalize on new market opportunities, our team of experts will work closely with you to structure a financing plan aligned with your specific goals. With our support, you can fuel innovation, drive expansion, and position yourself as a leader in New York's rapidly evolving cannabis industry.
Equipment Financing: Enabling Operational Excellence:
Efficient and reliable equipment is essential for the success of any cannabis business. At HEF Finance, we offer equipment financing solutions that enable you to acquire the latest machinery, automation systems, and technology platforms necessary for operational excellence. Our team will work closely with you to structure a financing plan that aligns with your business goals, helping you optimize productivity, improve product quality, and enhance overall efficiency. With our support, you can stay ahead of the curve and ensure long-term success.
Real Estate Loans: Building a Solid Foundation:
The cannabis industry demands modern, compliant, and secure facilities to flourish. At HEF Finance, we recognize the importance of accessing capital for real estate ventures. That's why we offer flexible real estate loans tailored to the unique needs of cannabis entrepreneurs in New York. Whether you're looking to purchase, renovate, or expand properties for cultivation, manufacturing, or retail purposes, our experienced team can provide the necessary financing to bring your vision to life. With our support, you can create state-of-the-art facilities that meet regulatory standards and provide a safe environment for your operations.
Private Money: Your Trusted Financial Partner:
At HEF Finance, we understand that each cannabis business is unique, and sometimes traditional lending institutions may not fully comprehend your specific needs. That's where our private money solutions come in. As your trusted financial partner, we offer personalized financing options that cater to the intricacies of the cannabis industry. Our dedicated team of experts takes the time to understand your business model, growth plans, and financial requirements, ensuring that you receive the support you need to succeed.
Partner with HEF Finance: Unlock Your Potential:
Choosing the right lending partner is crucial for the success of your cannabis business. With HEF Finance, you gain a dedicated team of experts who possess a deep understanding of the industry, coupled with extensive experience in cannabis lending. We are committed to helping you overcome financial barriers and reach your business objectives. Whether you require private money, debt financing, equipment financing, business term loans, or acquisition loans, we have the expertise, network, and dedication to support you every step of the way.
Contact us today to explore how HEF Finance can help you unlock the full potential of your cannabis-based business in New York. Together, we can pave the way for a prosperous future in this exciting and rapidly expanding industry.
How to find a loan for your cannabis business?
The underserved cannabis industry, as it pertains to financial services, is a minefield to be navigated only by the intrepid and savvy. The dearth of lending options in the cannabis sector, and banking options, make it uniquely difficult to obtain debt financing. And there is no shortage of pitfalls and misleading brokers.
+ CONTINUE READING
Fact or Fiction: Cannabis Equipment Leases at 5% APR
Recently, in our survey of the online content the cannabis lending industry, we found examples of claims about cannabis equipment leasing rates that made us cringe, and to be honest, chuckle. One example, was a cannabis equipment leasing web page that touted the following highlights of their cannabis equipment lease program:
+ CONTINUE READING
Can I get a loan for my Cannabis Startup business
At HEF Finance, we get this question usually a few times a week. And, we always say that we have executed many loans for startups and pre-revenue companies for public and private companies in both the U.S. and Canada. That said, like all cannabis loans, the business needs certain ingredients to execute a loan successfully.
+ CONTINUE READING